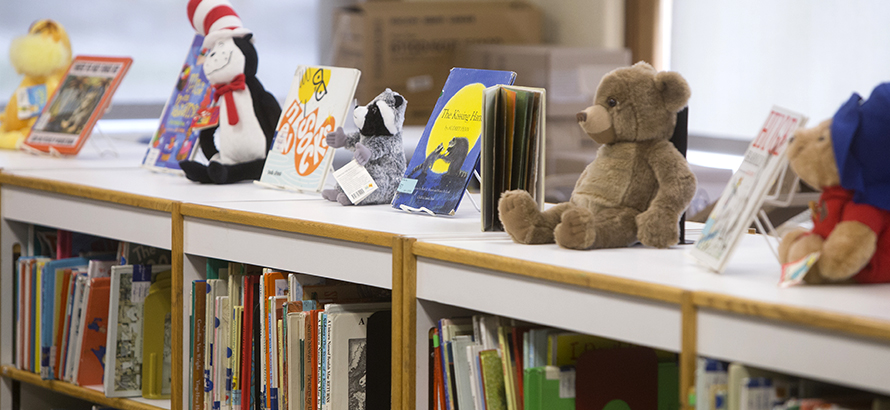 Bond Election Info
The Eastpointe Community Schools' Board of Education has approved placing a $36.4 million no tax-rate increase bond proposal on the August 8 ballot. Voter approval of the ballot proposal will not increase the current tax rate.
All bond projects have been designed with students and the community foremost in mind.
Research indicates that school districts with schools and facilities that are in good repair tend to have higher property values. Good schools and facilities are also key factors for families who are looking to relocate to a community.
Background Information
Eastpointe Community Schools maintains nine facilities: Bellview Elementary, Crescentwood Elementary, Forest Park Elementary, Pleasantview Elementary, Eastpointe Middle School, Eastpointe High School, The Early Learning Center, the Alternative Center, and the operations and transportation building. The average age of Eastpointe Community Schools' facilities is 64.5 years old.
Preschool and elementary enrollment are projected to double in the next five years. We want to make sure the district's youngest learners have a space that will support their educational program.
In addition, the bond revenue will allow us to complete the updates at the middle school and high school that were started through the sinking fund, which passed in 2019 and has allowed the district to complete maintenance and minor renovations.
Click here for more background information and Frequently Asked Questions.
Will the bond proposal increase

the current tax rate?
No. The school district will extend the current tax rate for the entirety of the bond, which will not require any tax rate increase to complete the projects.
How do I vote?
Vote at the polls on August 8th OR vote by absentee ballot after June 29th through Election Day.
To get an absentee ballot application, call your Clerk's Office OR go to www.michigan.gov/vote and click on Absentee Voting in the left column.
What projects will be completed?
A full and detailed list of projects can be found in this document.
Expand the boxes below for highlighted projects by building.
Projects at the Early Learning Center will include:
Upgrade security cameras and exterior lighting
Upgrade instructional technology
Expand the east parking lot, add a bus lane, and add staff/visitor parking
Replace paving, concrete, and fencing
Upgrade playground equipment and playfields; replace playground surface
Replace gym sound system
Replace select roofing and exterior masonry
Replace domestic water heater and electrical panel
Install central air conditioning
Projects at Crescentwood Elementary will include:
Upgrade security cameras and exterior lighting
Upgrade instructional technology
Replace parking lot paving, sidewalks, and curbs; replace crosswalk pads and bollards; add concrete walks at egress doors
Extend Eastwood Avenue to the school parking lot to improve traffic flow and student safety
Upgrade playground equipment and

playfields

Replace gym sound system and refinish wood gym floor
Replace select roofing and exterior brick
Replace water heater
Install central air conditioning
Projects at Forest Park Elementary will include:
Upgrade security cameras and exterior lighting
Upgrade instructional technology
Replace parking lot paving, sidewalks, and curbs

Reconfigure parking lot for improved traffic flow

Upgrade playground equipment and

playfields

Replace gym sound system
Replace select roofing and exterior brick
Replace water heater
Install central air conditioning
Projects at Bellview Elementary will include:
Upgrade security cameras and exterior lighting
Upgrade instructional technology
Replace parking lot paving, sidewalks, and curbs

Add a bus lane along Phlox Avenue to improve traffic flow

Upgrade playground equipment and

playfields

Replace gym sound system
Replace select roofing and exterior brick
Replace water heater
Install central air conditioning
Projects at Pleasantview Elementary will include:
Upgrade security cameras and exterior lighting
Upgrade instructional technology
Replace parking lot paving, sidewalks, and curbs

Add a bus lane to improve traffic flow

Upgrade playground equipment and

playfields

Replace gym sound system and refinish wood gym floor
Replace select roofing and exterior brick
Replace water heater
Install central air conditioning
Projects at Eastpointe Middle School will include:
Create a secure main entry; add visitor parking near secure entry location
Upgrade instructional technology
Upgrade door locks, security cameras, and exterior lighting
Add interior corridor doors for security
Replace select sidewalks
Replace gym sound system
Add an outdoor basketball court and other outdoor equipment for physical education
Replace select roofing
Projects at Eastpointe High School will include:
Create a secure main entry
Upgrade door locks, security cameras, and exterior lighting
Upgrade instructional technology
Renovate the Culinary Arts space
Renovate restrooms
Resurface the track and improve soccer/football practice field
Upgrade pool equipment
Replace paving
Replace gym sound system
Replace heating system
Replace select roofing
Renovate classrooms
Demolish certain classrooms that are no longer used to reduce deferred maintenance and operating costs